!!! NEVER REVEAL YOUR PRIVATE KEY TO ANYBODY !!!
Pretty Good Privacy (PGP) is a data encryption and decryption computer program that provides cryptographic privacy and authentication for data communication. PGP is often used for signing, encrypting, and decrypting texts, e-mails, files, directories and whole disk partitions and to increase the security of e-mail communications. PGP and similar software follow the OpenPGP standard (RFC 4880) for encrypting and decrypting data.
Check also articles: PGP and RSA theory and Verifying PGP signatures
PGP Tutorials:
Windows Users:
If you want outgoing/incoming mail to be automatically encrypted/decrypted, install the Thunderbird email client and the Enigmail add-on.
OS X Users: 
Linux Users:
KEY CREATION
NOTE: NEVER REVEAL YOUR PRIVATE KEY TO ANYBODY
NOTE: IT IS RECOMMENDED THAT YOU USE A FRESH EMAIL FOR PGP KEYS
Here is a RSA key creation worksheet, to better understand math behind key creation and encryption/decryption process. https://www.cs.drexel.edu/~jpopyack/IntroCS/HW/RSAWorksheet.html
PGP Users:
$ pgp --gen-key



Please select what kind of key you want:

   (1) RSA and RSA (default)

   (2) DSA and Elgamal

   (3) DSA (sign only)

   (4) RSA (sign only)

Your selection? 1

RSA keys may be between 1024 and 4096 bits long.

What keysize do you want? (2048) 2048

Requested keysize is 2048 bits

Please specify how long the key should be valid.

         0 = key does not expire

      <n>  = key expires in n days

      <n>w = key expires in n weeks

      <n>m = key expires in n months

      <n>y = key expires in n years

Key is valid for? (0) 0

Key does not expire at all

Is this correct? (y/N) y



You need a user ID to identify your key; the software constructs the user ID

from the Real Name, Comment and Email Address in this form:

    "Heinrich Heine (Der Dichter) <heinrichh@duesseldorf.de>"



Real name: Bob Smith

Email address: bob@smith.com

Comment: Hello World!

You selected this USER-ID:

    "Bob Smith (Hello World!) <bob@smith.com>"



Change (N)ame, (C)omment, (E)mail or (O)kay/(Q)uit? O

You need a Passphrase to protect your secret key.



Enter passphrase: ******

Repeat passphrase: ******

Some basics:
Recommended key lengths:
 Use a 2048-bit key as a minimum or a 3072-bit or 4096-bit key if available. 2048-bits is usually the best tradeoff between speed and security for most people. Some are even starting to use 8192 bit keys.
YOUTUBE VIDEOS ABOUT PGP AND RSA
How did the NSA hack our emails?
VERIFYING SIGNATURES
Windows Users (Gpg4win):
Linux Users (GPG): https://www.gnupg.org/gph/en/manual/x135.html
UPLOADING KEYS TO KEYSERVERS
You an upload and download KEYS from PGP KeyServers manually.
Saving them to files
Use FILE>EXPORT CERTIFICAE to save it to .asc format
and FILE>IMPORT CERTIFICATE to import it to your keychain
KEYSERVERS:
http://en.wikipedia.org/wiki/Key_server_%28cryptographic%29
Cicada 3301 usually uses: http://pgp.mit.edu/  key server
Settings for kleopatra: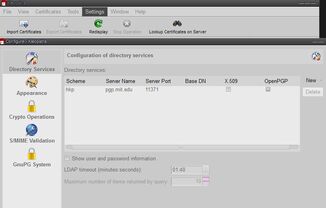 Settings>Configure Kleopatra>Directory Services
pgp.mit.edu - PGP Keyserver HTTP - Default Port (11371)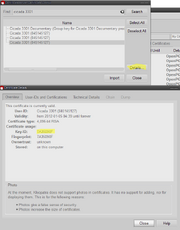 IMPORTING KEYS TO YOUR KEYCHAIN DIRECTLY FROM SERVER
File>Lookup for Certificates on Server
Always make sure you check KEY ID, IT HAS TO MATCHREAL CICADAS KEY
CERTIFYING CICADAS KEY:
You have to creat you PERSONAL PRIVATE KEY first
You have to have cicadas key in your keychain.
Right click on cicads key in your keychain. Select Certify Certificate. Check Cicads key and check and "I have verified the fingerptint". NEXT. Select your PRIVATE KEY and check "Certify for everyone to see" and "Send Certificate to server afterwards". Enter your passphrase. Read WARNING. Continue.And you are done.
Check if your email is visible on:
http://pgp.mit.edu:11371/pks/lookup?op=vindex&search=0x181F01E57A35090F
Ad blocker interference detected!
Wikia is a free-to-use site that makes money from advertising. We have a modified experience for viewers using ad blockers

Wikia is not accessible if you've made further modifications. Remove the custom ad blocker rule(s) and the page will load as expected.