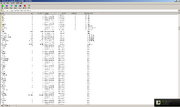 The file downloaded from DropBox was a bootable CD ISO.
https://www.dropbox.com/s/r7sgeb5dtmzj14s/3301
Backup links:
https://mega.nz/#!N1oXRD5T!I22-ukwhArw1uBV5FCyegCc5Os996rtcKl5sqBKdbrw
http://www.mediafire.com/file/ui6ov56hu58f4t3/3301.iso

Check also: http://uncovering-cicada.wikia.com/wiki/Files_found_in_CICADA_OS
Ad blocker interference detected!
Wikia is a free-to-use site that makes money from advertising. We have a modified experience for viewers using ad blockers

Wikia is not accessible if you've made further modifications. Remove the custom ad blocker rule(s) and the page will load as expected.