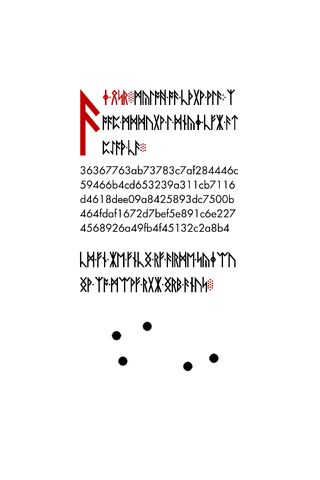 Page 56 of the runes released in May 2014.
It's the only page that has been deciphered so far. The member cluosh from the freenode chan #cicadasovers was able to find a readable english after using a series of primes as shift keys. Starting from 2 and in the right order wihtout skipping any primes.
The transcribed ciphered text in latin was:
AE-J  OE-S-R#M-Y-L-O-H  O-AE  C-TH-G-W  W-L-AE  X-O-A-P  M-D-D-U-G-W  L  D-N-Y-J  C-F-IA  AE-T-P-EO-A-TH  C-AE#C-D  F-N  IA-E  F-N-C-NG  R-F  AE-I-R-D-E  S-Y-J-EA-U-NG-W  X-O  M-EA-W-F  R-G-IA  NG-R-B  AE-N-U-S#
Which was deciphered to the following:
AN END. WITHIN THE DEEP WEB TH

ERE EXISTS A PAGE THAT HA

SHES TO:

[hex string here]

IT IS THE DUTY OF EUERY PILGR

IM TO SEEK OUT THIS PAGE.


The shift sequence was the first primes: 2 3 5 7 11 13 ... etc but with a -1 offset. Which means the real values that were used were 1 2 4 6 10 12.
Example:
We use gematria primus as a reference. It's a simple:
This is the first three ciphered words: AE-J  OE-S-R : M-Y-L-O-H
This is the shifting sequence: (prime-1) 2-1, 3-1, 5-1, 7-1, 11-1, 13-1, 17-1, 19-1, 23-1, 29-1 which gives us those values: 1, 2, 4, 6, 10, 12, 16, 18, 22, 28,
We shift AE by 1 on the table to get A. (move backward)
We shift J by 2 on the table to get N.
We do the same with every rune to get the deciphered text which is: "An end : within ...."
The F was escaped:
This method was correct for all runes except for F. Whenever an F was found, it was left as it is, but the shift value that was supposed to be used on it is used on the next rune instead. So you skip the F but not the shifting value. Remember that you're using the prime numbers in their original order starting from 2.
Appears on these pages

of
Cover 1033.jpg details Liber Primus A WARNING BELIEVE NOTHING FROM THIS BOOK EXCEPT WHAT YOU...

17 already solved pages 0.jpg 1.jpg 2.jpg 3.jpg 4.jpg 5.jpg 6.jpg 7.jpg 8.jpg 9.jpg 10.jpg...

BACK Page 56 decodes to: AN END: WITHIN THE DEEP WEB TH ERE EXISTS A PAGE THAT HA SHES TO...
Appears on these wikis

of
Double World Wiki

Reset Bomb Forest is a location in the Kid Icarus Universe.  Reset Bomb Forest apeared in Kid...
File history
Click on a date/time to view the file as it appeared at that time.
Ad blocker interference detected!
Wikia is a free-to-use site that makes money from advertising. We have a modified experience for viewers using ad blockers

Wikia is not accessible if you've made further modifications. Remove the custom ad blocker rule(s) and the page will load as expected.